North Watford Bowls Club was founded in April 1927.
We were the first club in Watford to have an all ladies team, formed in 1935.
The most prestigious club event occurred either side of  World War 2, when in the 1939 season the club reached the last eight of the National Men's Double Rink competition due to be played in September. Unfortunately war was declared and the competition was postponed indefinitely. After the war finished in the summer of 1945 the quarter finals were resumed and North Watford eventually finished as National runners up to Consett Bowls Club from County Durham.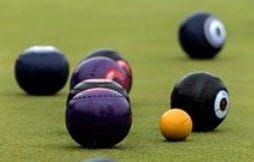 A new pavilion was erected and opened on 5th May 1979 at our present site, Callowland Recreation Ground.
We have male and female bowling members and will always welcome newcomers; either new to bowling or just to our club.
We have a great green, clubhouse and bar for our internal and competitions matches, social calendar or just to have a catch up with other members,
Our social events are well supported including bingo, quiz nights and a fun carpet bowls league during the winter months. We are always looking for ways to engage with new people and increase our membership numbers.
If you want to pop down you are more than welcome. We have different levels of membership so you can choose whether to be a social member, associate member, or full playing member.